Starts Thu 2nd April
Ends Mon 6th April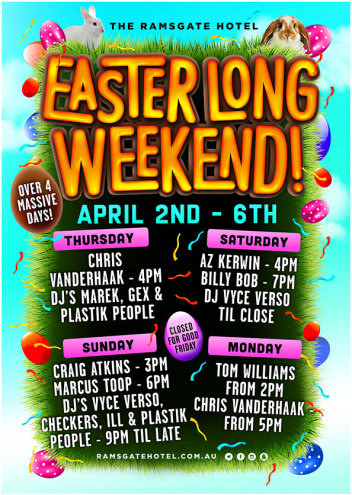 Easter Long Weekend
It's a HUGE long weekend at the Rammy with something for everyone!
We've moved Friday to Thursday with a big Thank FX#K It's Easter Party featurng Marek (DJ) DJ Gex & Plastik People. With all your favourite Friday night drink specials until close plus $12 schnitzels and $10 Jugs of Carlton dry before 9pm. We have live music from 4pm so make sure you get down early!
Saturday we have live music from 4pm with Az kerwin followed by Billy Bob Rankine and DJ Vyce Verso rounding it all off with all your favourite 90's & 00's. With $5 Beams, $5 Vodkas, $5 Pints and $4 Bubblies make sure you do your Saturday a favour and head on down!
Sunday is absolutely MASSIVE with $5 ciders and live acoustic from 3pm and Dj's Vyce Verso, Checkers, ILL DJ Page and Plastik People from 8pm-2am!
And we're rounding off the long weekend with Tom Williams from 2pm and Chris Vanderhaak from 5 on Monday afternoon!
It's going to be epic so come celebrate Easter with the Rammy!
Closed - Good Friday April 3rd
This is a FREE event
18+ Only - Photo ID required
Wednesday 22nd April 2015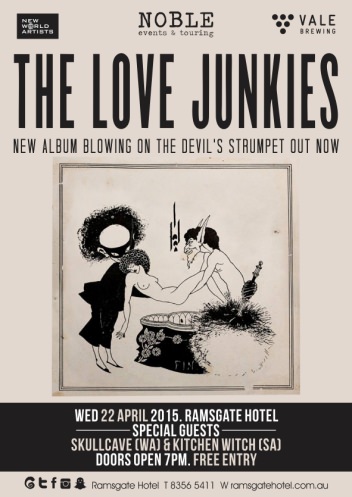 The Love Junkies
New album "Blowing on the Devil's Strumpet" out now!
Hailing from the foothills of Perth, Western Australia, The Love Junkies were founded by singer/songwriter Mitch McDonald and drummer Lewis Walsh at the end of 2009. The duo met many moons prior in high school, jamming out the beginnings of what would become The Love Junkies. By the time the band hit the studio a mere three months later, long time high school friend Robbie Rumble had joined on bass to complete the line up.
The Love Junkies bring their catchy, tidy, amped up indie rock to the Ramsgate on the 22nd of April along with special guests Skull Cave and local band Kitchen Witch.
This is a show you don't want to miss so come down and join us for a night of awesome music!
This is a FREE event
18+ Only - Photo ID required
7pm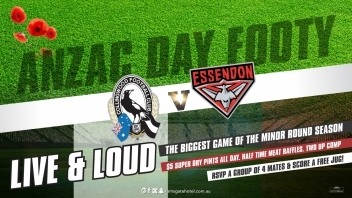 Anzac Day Footy
Live & loud!
Enjoy the biggest game of the minor round season and watch the Anzac Day clash between Collingwood and Essendon. With $5 Super Dry pints all day, half-time meat raffles and a 2-Up competition.
RSVP a group of four mates and score a free jug!
Conditions apply. See staff for details.
18+ Only - Photo ID required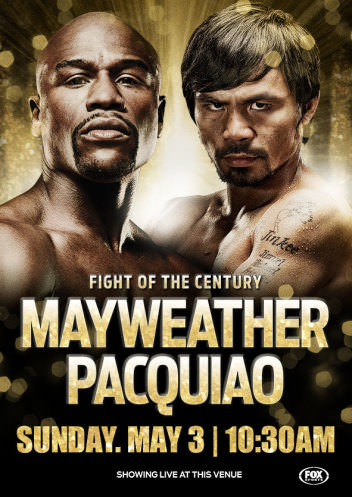 Mayweather Vs Pacquiao
After almost five years in the making, the most anticipated fight of the century is here.
Mayweather vs Pacquiao
SHOWING HERE LIVE Sunday May 3 @ 10.30am.
18+ Only - Photo ID required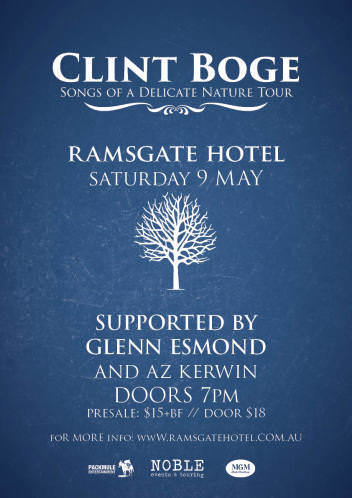 Clint Boge
Songs Of A Delicate Nature Tour
Brisbane based singer/songwriter Clint Boge has been crafting his solo wares for over a decade, in between endless hours on the road and sold out shows, Clint's love of the written word has always been a constant.The "Songs of a Delicate Nature" Tour will see Clint play 31 dates, across seven states and territories, throughout March, April and May. Clint comes to the Ramsgate Hotel on Saturday the 9th of May and will be supported by Az Kerwin and former band mate Glenn Esmond, Who will also bring a light acoustic feel to the show - They might even get together for a few old Favourites if the mood strikes them. This is one show you don't want to miss.
Pre Sale $15+BF
Door $18
18+ Only - Photo ID required
7pm
Starts Thu 2nd April
Ends Sun 6th September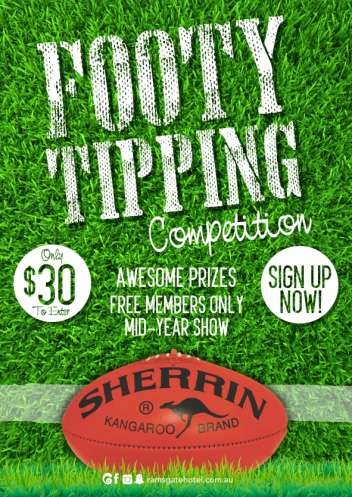 Footy Tipping Competition
The 2015 AFL premiership season is almost here and the Ramsgate is starting up its annual Footy Tipping competition. With awesome prizes and giveaways, a mid year show and more!
For only $30 you don't want to miss out! Come in and register today!
Conditions apply. See staff for details.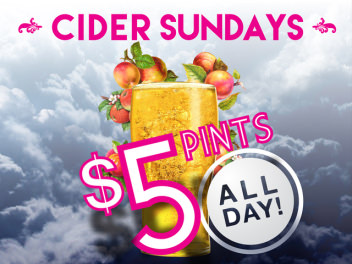 Cider Sundays
Join us for our famous Sunday Sesh, with $5 Cider all day and entertainment from 2pm.
18+ Only - Photo ID required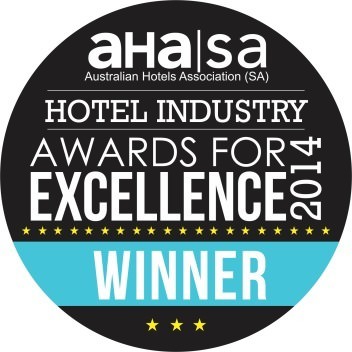 Winner: Best Marketed Hotel
2014 AHA Industry Award Winner
Congratulations to all staff members for their contribution to the venue winning the AHA|SA Best Marketed Hotel Award for Excellence 2014.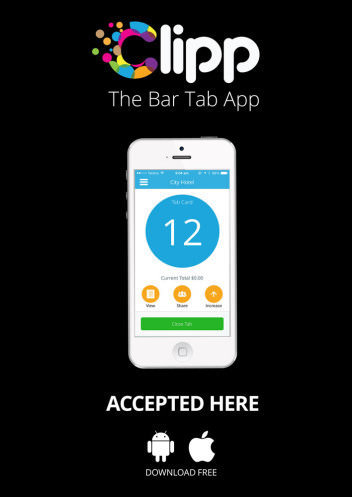 Clipp the Bar Tab App is Now Here
Clipp the Bar Tab App allows you to pay for food and drinks directly from your smartphone.
Simply download the app and connect a credit card to your account.
Set your tab limit and flash your phone when placing your order.
View all your purchases in real time and when you're ready to leave, simply close the tab from your phone.
Come and give it a go!
See staff for details and conditions.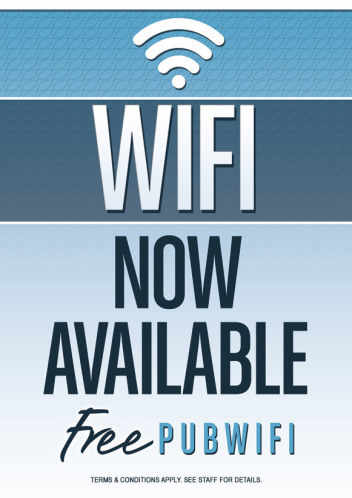 Free Pub WIFI
Whilst enjoying a meal or a quiet drink, why not make use of our Free Pub WIFI?
Check your email, check in to Facebook to let your mates know where you are or browse the web.
Terms and conditions apply. Please ask a staff member for details.