Thursday 8th January 2015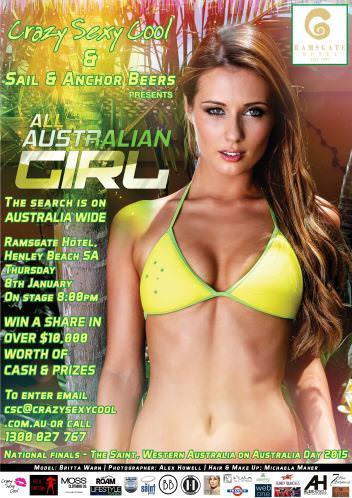 All Australian Girl
The Search is on Australia Wide
The search is on for the "All Australian Girl" in conjunction with The Ramsgate Hotel, Crazy Sexy Cool and Sail & Anchor Beers.
Win in a share of $10,000 worth of cash and prizes, with the national final being held at The Saint, Western Australia on Australia Day 2015.
To enter email via the link below or call 1300 827 767.
This is a FREE event
18+ Only - Photo ID required
From 8pm
Wednesday 21st January 2015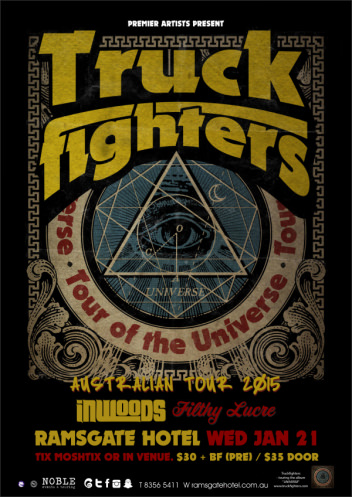 Truckfighters
Tour of the Universe
Buy Tickets Online Now
Truckfighters 2015 Australian Tour
To hear Truckfighters music is to hear the sounds of the desert. It's in their wide open expanse, it's in their grand open groove and dust-caked metal riffs. This is a band bred on the California badlands, on sprawling vistas and parched wilderness.
There is just one thing. They're from Sweden!!
Over the course of four critically acclaimed albums, Truckfighters have honed, tautened and expanded their sound, moving from out-and-out riffing to more melodic, crafted songwriting. Yet, inherent in everything is the fuzzed-out mania that defines them.
From $30
Tickets available at venue
Booking fee may apply
18+ Only - Photo ID required
Doors Open from 7pm
Thursday 22nd January 2015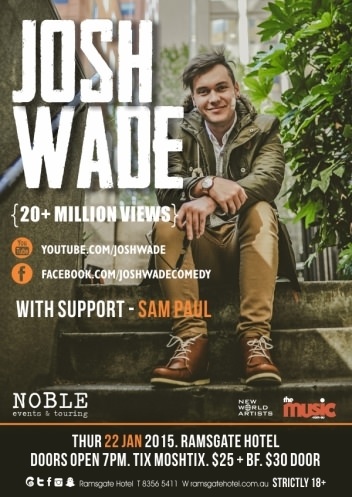 Josh Wade
With Support Sam Paul
Buy Tickets Online Now
At just 19 comedian and Youtube sensation Josh Wade is part of the new bred of new media performers who have their world wide audiences in a frenzy. Josh Wade began creating content online in 2007 at the age of 13. It was through this online outlet that Josh developed a passion for acting, comedy and video production.
Josh continued to deliver his own viral videos throughout his teenage years from his home town Townsville, Queensland. A growing fan base and early success encouraged him to craft and adapt his online material into a one hour solo stand up comedy show. In 2014 Josh performed his debut show "I'm Josh Wade" at the Melbourne International Comedy Festival and Sydney Comedy Festival, receiving rave reviews for a string of 33 sold out shows.
Wade is still in his teens, but he already has his act honed. Rapid-fire, high energy, potty-mouthed, he is also an excellent ad-libber. - Baz Blakeney, Herald Sun
Josh's online presence continues to thrive, garnering him thousands of new fans each day. This young comedian has cemented himself as a worldwide prospect for Australian comedy and beyond.
From $25
Booking fee may apply
18+ Only - Photo ID required
Doors Open from 7pm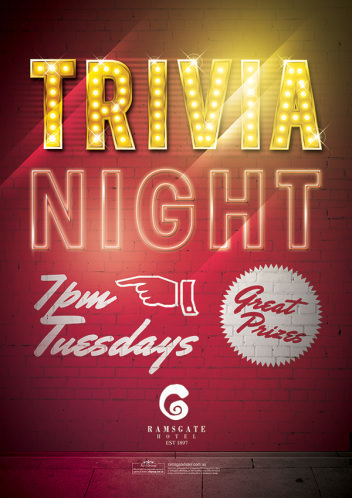 Tuesday Trivia Night
Starting on October 22nd we have Trivia night. It starts at 7pm, with great prizes to be won.
Come down to the Ramsgate hotel every Tuesday night and test your little grey cells!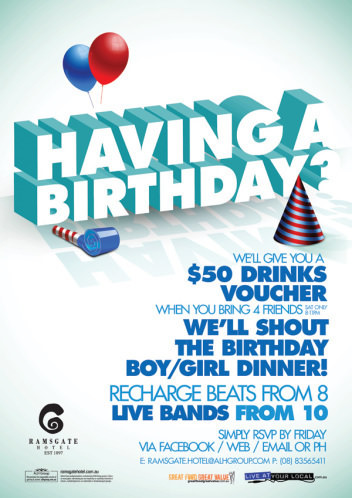 Are You Having a Birthday?
It's our shout!
RSVP by Friday and we will shout you and (x4) four mates a $50 drinks voucher Saturday Night and even get the Birthday Boy/Girl their dinner!
Offer valid Saturdays only.
Meal offer valid Saturday 6pm til 9pm only.
$50 voucher offer valid Saturdays from 8pm only.
Must RSVP by 9pm Friday preceding.
Must present ID for verification.
Must be week of actual Birthday.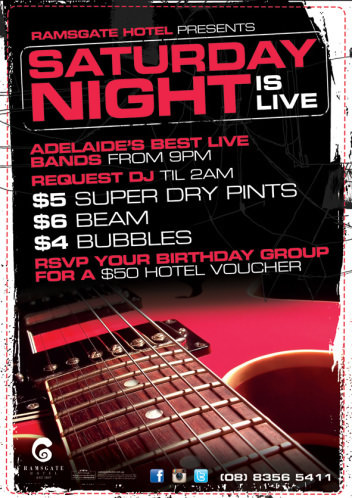 Saturday Night is Live
Ramsgate Hotel presents Adelaide's best live bands from 9pm every Saturday night. Also featuring our request DJ until 2am.
$5 Super Dry Pints
$6 Beam
$4 Bubbles
Plus RSVP your birthday group for a $50 Hotel voucher.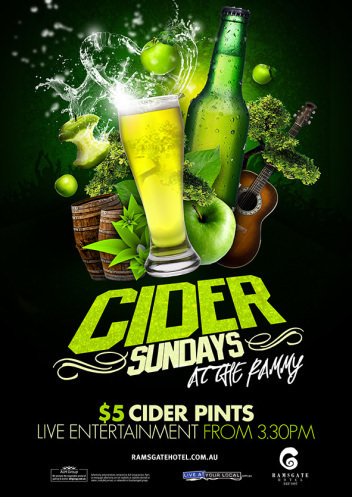 Cider Sundays
Join us for our famous Sunday Sesh, with $5 Cider all day and entertainment from 3pm.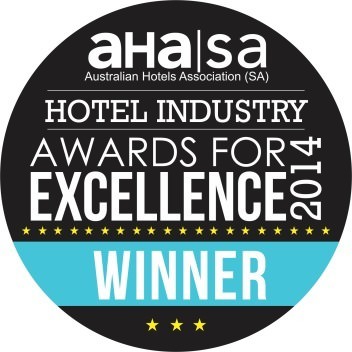 Winner: Best Marketed Hotel
2014 AHA Industry Award Winner
Congratulations to all staff members for their contribution to the venue winning the AHA|SA Best Marketed Hotel Award for Excellence 2014.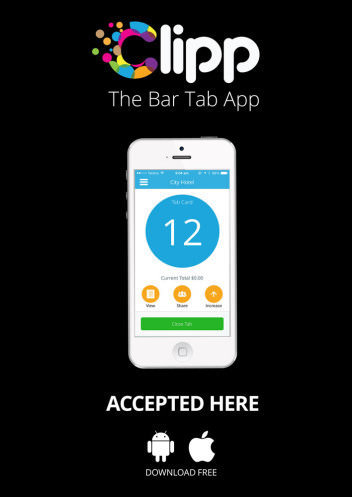 Clipp the Bar Tab App is Now Here
Clipp the Bar Tab App allows you to pay for food and drinks directly from your smartphone.
Simply download the app and connect a credit card to your account.
Set your tab limit and and flash your phone when placing your order.
View all your transactions in real time and when you're ready to leave, simply close the tab from your phone.
Come and give it a go!
See staff for details and conditions.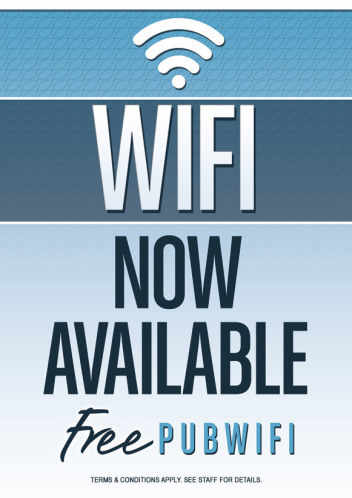 Free Pub WIFI
Whilst enjoying a meal or a quiet drink, why not make use of our Free Pub WIFI?
Check your email, check in to Facebook to let your mates know where you are or browse the web.
Terms and conditions apply. Please ask a staff member for details.